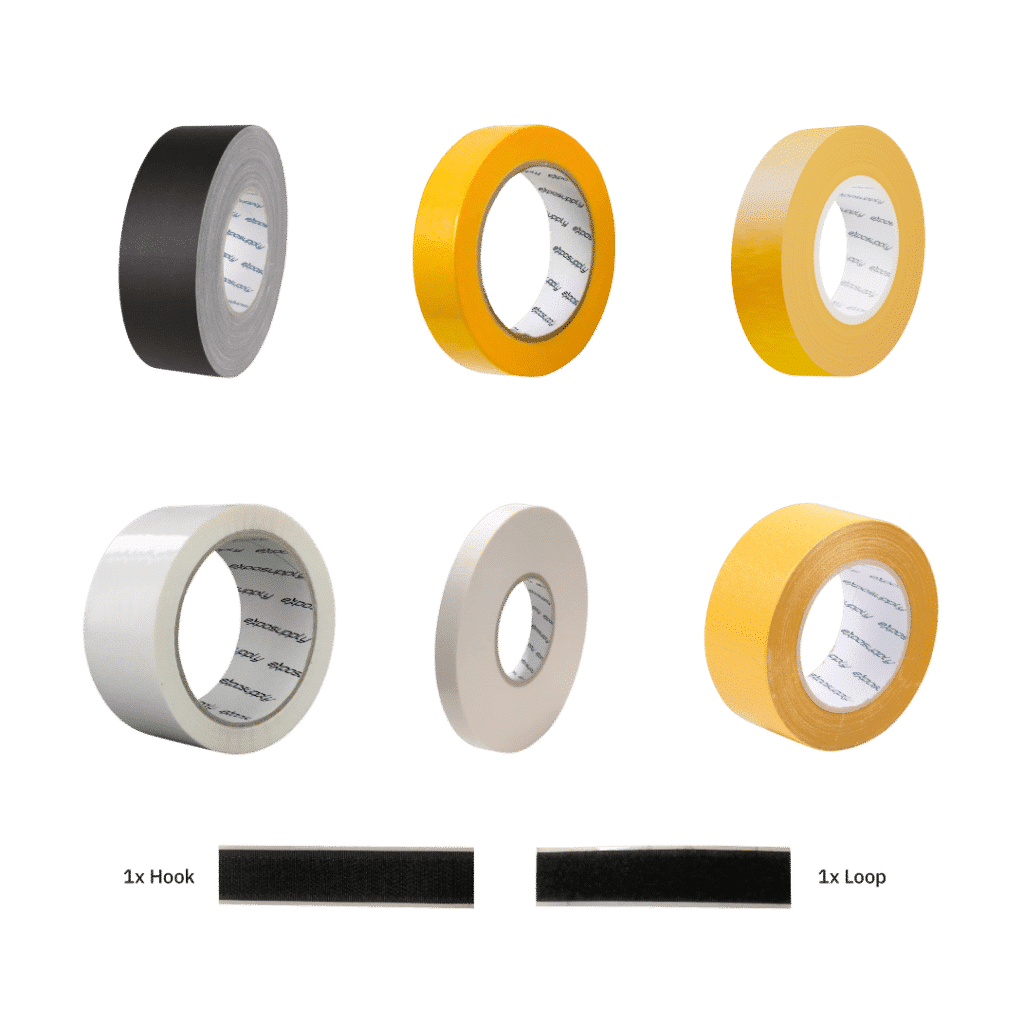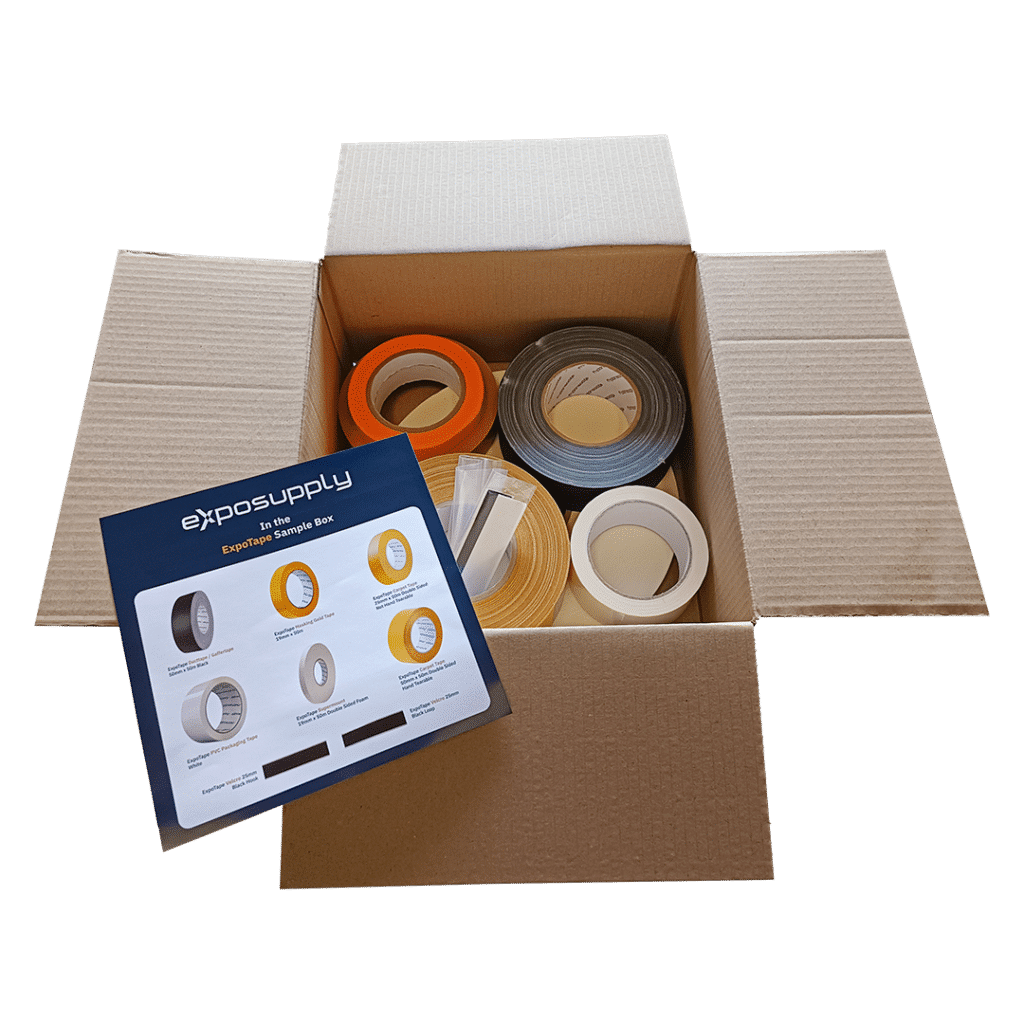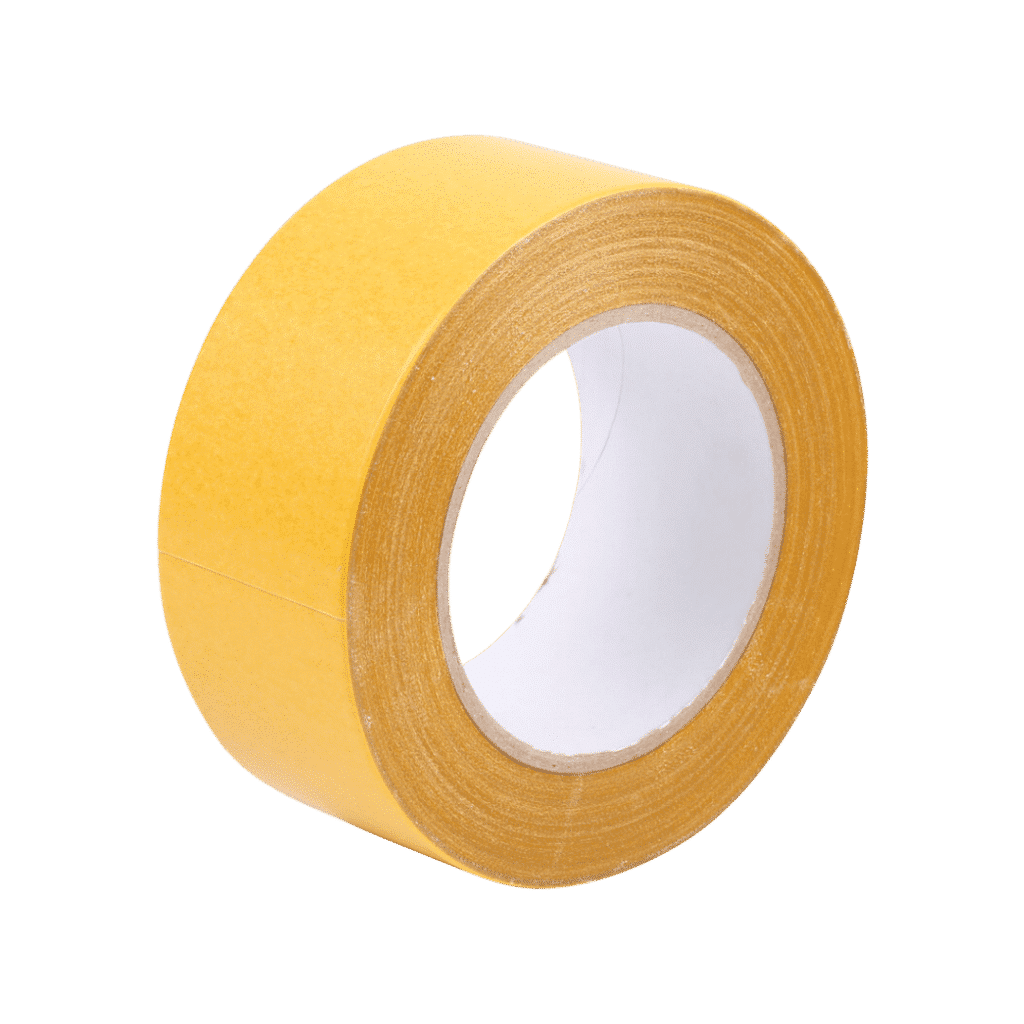 ExpoTape Sample Box
sku: SAMPLE-TAPES
The ExpoTape Sample Box consists of 6 rolls of tapes and a test strip... read more
Why can't I see prices?
In stock
Personal purchasing discount
Best value for money
Customer service is at your disposal
Product information
The ExpoTape Sample Box consists of 6 rolls of tapes and a test strip of Velcro that are ideally suited for use in stand construction. Experience the effect of the tapes from the ExpoTape collection for yourself. The Sample Box worth € 90.00 has the following contents:
roll Masking gold tape (Painter's tape) 19mm x 50m

1 roll Carpet tape 25mm x 50m | Double-sided – Not hand tearable

1 roll PVC Packaging Tape White  

1 roll Supermount Mirror tape 19mm x 25m | Double-sided foam

1 roll Carpet tape 50mm x 50m | Double-sided – Hand-Tearable

1 rol Ducttape / Gaffertape 50mm x 50m

Test strip ExpoTape Velcro Loop and Hook 25mm
Velcro Loop & Hook
Besides the well-known Loop & Hook velcro of the Velcro brand, Exposupply now supplies its own brand velcro tapes. Strong adhesion and ideal for attaching panels to matrix frames.
Carpet tape
Double-sided carpet tapes for temporary fixing of carpet (tiles) with excellent adhesion to smooth and rough surfaces. Can be easily removed after use. Available as hand tearable and non – hand tearable.
PVC packaging tapes
Packaging tapes are available in white, brown and transparent colours. On request, it can also be printed with your own text or logo.
Mirror tape
Double-sided PE tape with high adhesive strength for fixing decorative frames, logos, lighting, nameplates, etc.
Masking tape
Ideal for masking surfaces during spraying, painting or varnishing and can be used at different temperatures with cleaner removal and leaves no adhesive residues.
Gaffer tape
This tape is used for safely taping electrical cords and cables in trade show booths, stages, theaters and studios.
Specifications
Packaging dimensions
30x30x15cm
Do you have a question about this product?